International Conference on LGBTIQ+ senior citizens in Amsterdam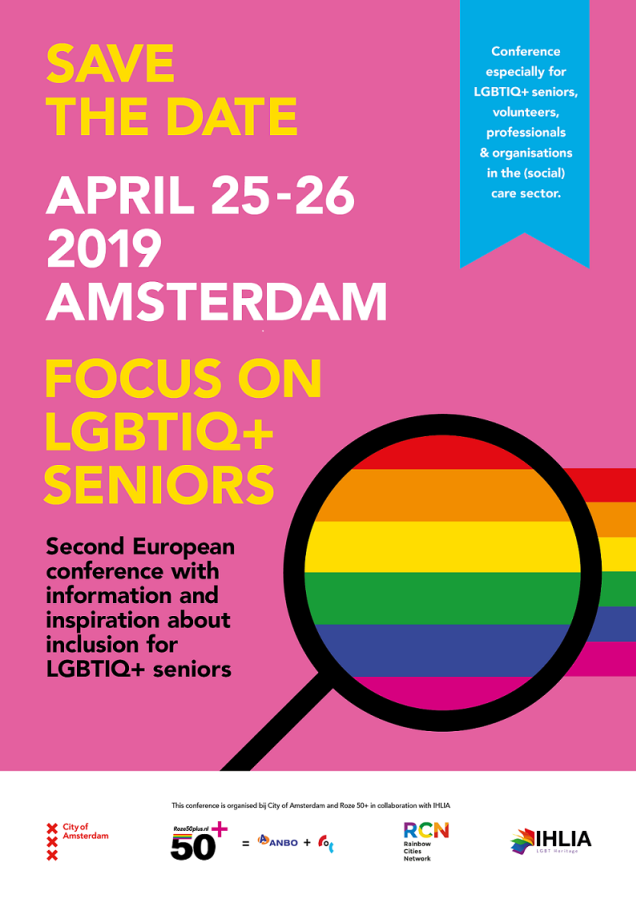 Announcement:
The City of Amsterdam will host an International Conference on and for LGBTIQ+ senior citizens on April 25th and 26th 2019. The conference is organized in collaboration with Roze 50+ (Pink 50+) and Movisie (Netherlands knowledge institute in the social domain). In addition to exchanging knowledge and experiences in the field of LGBTIQ+ senior citizens, the organizators aim to set up an international LGBTIQ+ elderly network; this conference is a first step in this process. They are inviting all national, regional and local operating organizations and projects that work with and for LGBTIQ+ senior citizens, both within and outside the Rainbow Cities Network. We are expecting about 150 participants (including the Rainbow Cities Network). The official language of the conference is English.
'Inclusion of LGBTIQ+ senior citizens' is the main theme of the conference on Friday April 26th. Topics include inclusive services for LGBTIQ+ seniors, (prevention of) loneliness and isolation, connecting young and old within the LGBTIQ+ community and the role of the government within all these examples. Apart from the plenary sessions, there are workshops, round table discussions, inspiration sessions and an information market. Thursday April 25th there is a practice oriented side program. The organizators are currently working hard on the preparations for this conference, details will follow shortly.